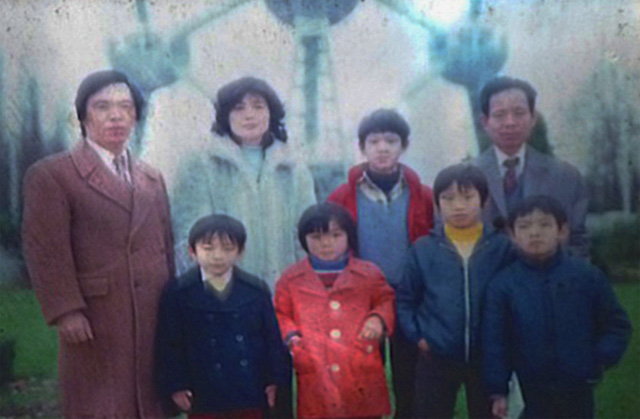 Thierry Liegeois
Le Syndrome Murray Futterman
26.04.2014
Avenue de la Couronne 29 - Brussels
FR
Le « Syndrôme Murray Futterman »... La peur de l'étranger... Murray Futterman à la chasse aux Gremlins. Un personnage secondaire mais mythique qui incarne un monde capitaliste aseptisé, homme de lutte contre les Gremlins envahisseurs. Le Gremlins, c'est l'autre, notre double, d'une inquiétante étrangeté.
Des années 1980 – 1984, année de sortie du premier Gremlins - aux années 2010, Thierry Liegeois voit une actualité.
Une circonstance : le lieu d'exposition, une maison, est un ancien restaurant chinois. Son nouveau propriétaire y retrouve une diapositive de la famille chinoise posant devant l'Atomium. Au même moment, Thierry Liegeois entend autour de lui des paroles simplettes empruntes d'un racisme ordinaire : « De toute manière, tout est de la faute aux chinois… ». Il s'attaque avec un humour mordant à la pauvreté de discours trop présents et fait un parallèle cynique avec l'absurdité de Murray Futterman et sa chasse aux Gremlins.

L'image-souvenir de la famille chinoise, agrandie à l'échelle d'un mur, apparaît comme une présence fantomatique accentuée par la forme spatiale de l'Atomium en arrière plan. Elle crée malaise. La pose est traditionnelle, celle d'une photo de voyage devant un monument touristique. On reconnaît les manteaux, on pourrait être dans les années 1980. Cette famille révèle des craintes : des frayeurs envers ce qui vient d'ailleurs.
Leur maison aurait servi de restaurant : aujourd'hui abandonné et dont la façade commerciale sur rue est absente – peut-être bien un restaurant clandestin. Il s'apparente à un pur décor de cinéma qu'un scénario vient réactiver.

Des calligraphies chinoises sur deux grands pilastres rouges sont traduites au soja à même le mur. « Vous êtes ici chez vous. » : une invitation à déambuler dans cet étage défraîchi du restaurant, une formule de politesse dégoulinante de soja qui pourrait avoir été inscrite par un des derniers occupants. Le Chinois aime le soja, c'est bien connu… Cliché ordinaire qui s'inscrit dans les codes d'un possible film d'horreur...

Le son d'un instrument recomposé : deux hulusis montés ensemble sur un système de ventilation- hulusi pouvant se traduire par « calebasse soyeuse » - se déclenche soudainement et inquiète. L'objet traditionnel chinois devient une sorte de monstre ayant la respiration d'une alarme. « Vous êtes ici chez vous. » Au centre de la pièce, devant une cheminée, une maquette de maison pavillonnaire au sol, en carton, au-dessus de laquelle survole un nuage surdimensionné à la maison. Le nuage, inspiré d'un vocabulaire formel de bande-dessinée (comme un nuage pour représenter un énervement et de la pluie pour évoquer la malchance et la déprime), menace la propriété. Du soja tombe goutte-à-goutte sur la construction cartonnée et la détruit peu à peu, cette villa rêvée, nid préfabriqué d'ouvrier embourgeoisé.
En fond sonore on entend la voix polyglotte d'un Murray Futterman qui enchaîne des phrases haineuses à travers un bruit d'appareils électroniques en panne. Le discours qui passe en filigrane dans le film culte est condensé dans une boucle sonore qui mélange lieux communs et vulgarité, on en capte des bribes : « Espèces de saloperie étrangère. » Ses insultes imbibent l'espace et les bruits de fond mécaniques oppressent.
« Vous êtes ici chez vous. »

Le décor domestique n'est pas rassurant. L'atmosphère menaçante est augmentée par la présence de deux photographies trônant à l'entrée, Murray Futterman d'un côté, un chinois de l'autre. Tous deux sont vautrés dans un canapé ; tous deux symétriques et identiques dans leur mise en scène ayant leurs mains en position armée. Cette attitude de confort est celle d'un Murray Futterman qui veut justement conserver le sien et l'autre qui aimerait y accéder.

La menace de l'étranger évoque une montée fasciste, l'installation d'une pensée commune faisant reporter la crise sur l'autre. Cette peur devient le scénario d'un syndrome, le « Syndrome Murray Futterman ». Chaque objet, chaque son, l'inscription au soja sont un plus d'étrangeté dans la maison. Les angoisses font rire, rire jaune. On ne rit plus. Les craintes sont bien là sujet d'inquiétudes et sources d'une vieille fiction.

Au sous-sol, le film « Rise and Fall » ferme la boucle. Des personnages, revêtus de bleus de travail et masqués d'un bonnet de bouffon, traversent un site industriel sur des tricycles pour enfants. Comme des revenants dans l'attente de transiter de l'ancienne vie ouvrière à une nouvelle vie - transition est maladroite et burlesque - , ils arpentent le lieu abandonné et se l'approprient. Ils réemploient les matériaux disponibles sur site dans la construction d'un monument-sculpture, objet fétiche de leur rituel de passage. Ils habitent bien dans une fiction qui paraît ne mener à aucune résolution.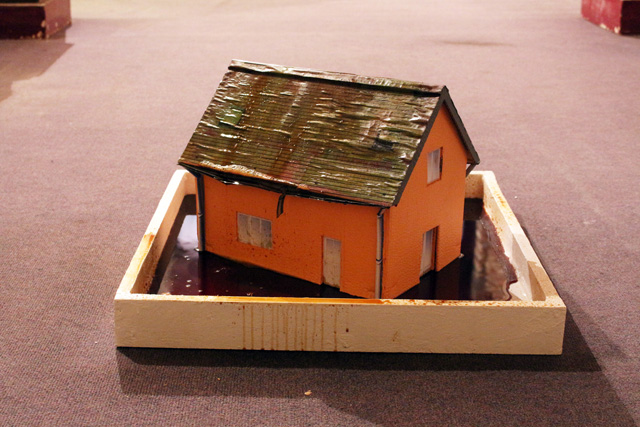 EN
The "Murray Futterman Syndrome",,, fear of foreigners… Murray Futterman hunting for Gremlins. A secondary but mythical character who embodies an aseptic capitalist world, man fighting back the invading Gremlins. The Gremlins are the other, our double, worrying oddity. During the years between 1980 - 1984, when the first Gremlins came out, and 2010, Thierry Liegois noticed something happening.
A circumstance : the exhibition space, a house, is a former Chinese restaurant. Its new owner finds a photographic slide of the Chinese family posing in front of the Atomium. At the same time, Thierry Liegois hears people around him uttering throwaway phrases relating to plain racism : "Anyway, it's all the Chinese's fault…" With biting humour, he attacks the poverty of such all too common ways of speaking, creating a cynical parallel with the absurd character of Murray Futterman and his hunt for Gremlins.

The souvenir picture of the Chinese family, enlarged to the scale of a wall, appears like an accentuated ghostlike presence due to the spatial form of the Atomium in the background. It creates discomfort. The pose is traditional, a travel photo in front of a touristic monument. One can recognize the coats, the kind worn in the 1980s. The family reveals its fears: of what is from elsewhere.
Their home was a restaurant: today it's abandoned, and its commercial façade on the street is absent – maybe it's become a clandestine restaurant. It seems ready to be reactivated as a film set.

The Chinese calligraphy on the two big red pilasters are translated in soya on the wall. "Home from Home" : an invitation to roam around this faded floor of the restaurant, a form of courtesy dripping in soya which could have been written by one of the last occupants. The Chinese like soya, it's well-known… ordinary cliché which would register in a possible horror film…

The sound of a recomposed instrument : two hulusis assembled together on a system of hulusi-ventilation which might be translated as "silky gourd" – suddenly worryingly starts up. The traditional Chinese object becomes a sort of monster breathing alarm. "Home from home." In the middle of the room, in front of a fireplace, there's the cardboard model of a house on the ground, over which an oversized cloud hangs. The cloud, inspired by formal cartoon style vocabulary, (like a cloud representing irritation and rain evoking bad luck and depression), threatening the property. Soya drops down on the cardboard construction and destroys it little by little, this villa of dreams, the prefabricated nest of a gentrified labourer.

As background sound we can hear the multilingual voice of Murray Futterman uttering a chain of heinous phrases via a sound of broken down electrical devices. The speech which files past as a filigree in the cult film is condensed into a sound loop which mixes commonplace and vulgar words, from which one can hear fragments : "you freaky foreign bastard." Such insults seep into the space and the mechanical background sounds are oppressing.
"Home from home."

The domestic décor is not reassuring. The threatening atmosphere is heightened by the presence of the two photographs crowning the entrance, with Murray Futterman on one side, and a Chinese man on the other. Each one is wallowing in a sofa ; each one symmetrically and identically staged with their hands held in a cocked position. This comfortable attitude is one that Murray Futterman would like to maintain and one that the other would like to achieve.

The threat of the foreigner evokes a rise in fascism, the installation of a common thought deferring the crisis onto the other. This fear becomes the scenario of a syndrome, the "Murray Futterman Syndrome." Each object, each sound, the inscription in soya are examples of strangeness in the house. The anxieties make one laugh, despite oneself. One no longer laughs. The fears are real cause for concern and the source of an old-fashioned fiction.

In the basement, the film "Rise and Fall" closes up the loop. Characters dressed in blue workers' overalls and masked in jesters' hats go across an industrial site on children's tricycles. Like ghosts hoping to cross over from the life of a labourer to a new life – a transition which is clumsy and burlesque - they roam through the abandoned site and appropriate it. They use what they find in-situ to construct a monument-sculpture, a fetishist object of their rite of passage. They live in a fiction which seem to be leading them to a place of no resolution.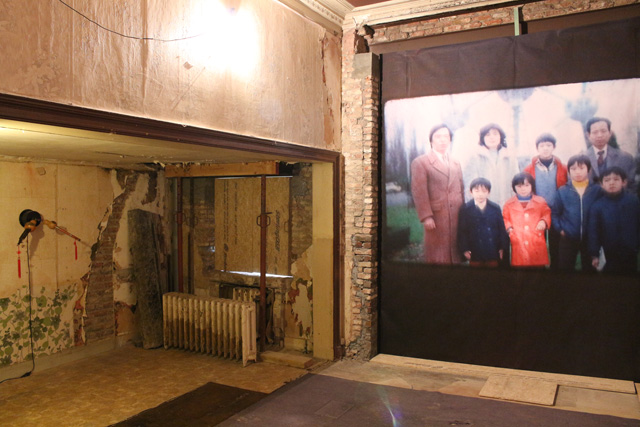 Avec le soutien de l'ENSBA-Lyon

&



L'exposition n'aurait pu voir le jour
sans l'enthousiasme et la confiance
de Francesco Frapiccini.