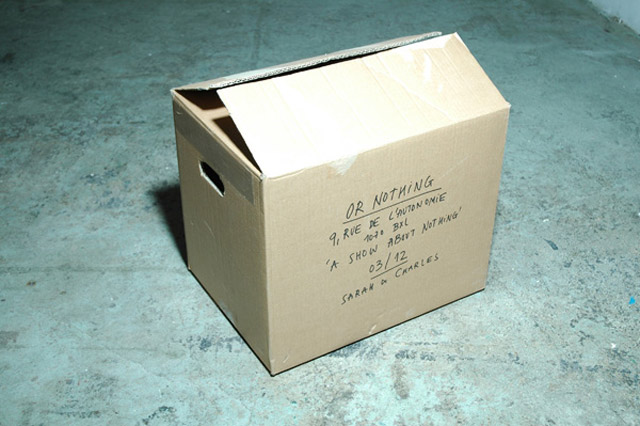 Sarah & Charles
A Show About Nothing
03.12.2011 | 8pm
Rue de l'Autonomie 9 | 1070 Brussels
N: "Let's go eat!"

R: "No we can't,
we have a meeting."

N: "About what?"

R: "The next show..."

N: "Oh…"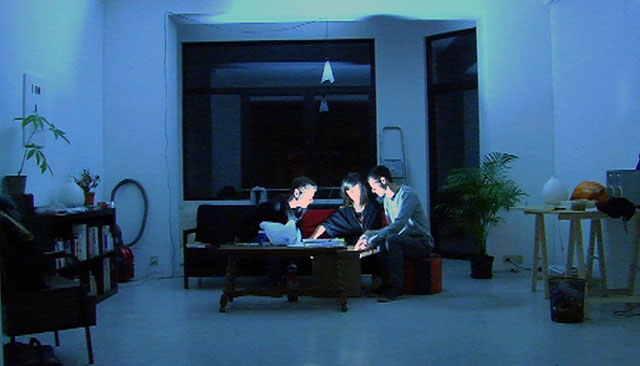 FR
De l'opéra au soap opera : A show about nothing
Après Blond Eckbert, opéra contemporain pour lequel Sarah & Charles ont pensé l'appareil scénographique, A show about nothing est un genre nouveau dans la pratique des deux artistes inspirés cette fois des soap operas et des téléréalités.
Avec L'autonomie 9, appartement privé bruxellois exhibé au public le temps des expositions et interventions artistiques pluridisciplinaires, Sarah & Charles questionnent une double dimension. L'espace privé et ses habitants, confondus au lieu d'exposition, sont étalés sur le devant de la scène. Les programmateurs du lieu se sont laissés prendre à leur propre jeu : Louise, Nicolas et Richard sont placés sous les projecteurs et devant la caméra. En renversant le rapport public/privé, les artistes captent l'attention des spectateurs sur le salon d'un appartement qui n'est autre que celui de l'espace de L'autonomie 9. Une seule voix pour chacun des performeurs crée un écran entre ceux-ci et leur public. Les corps déshumanisés par le dispositif miment les actions dictées par un scénario simple.
L'arrivée attendue du troisième personnage frustrera sans doute. Si le dispositif scénique porte à créer un mystère autour de cette attente, ce n'est que pour mieux décevoir puisqu'il s'agit bien d'un show about nothing . Quant aux dialogues creux, diffusés en voix off, ils n'ont rien à envier à ceux des sitcoms et révèlent un certain monde factice de l'art et de ses openings.
Le cinéma et les séries télévisées deviennent une source pour les artistes d'aujourd'hui autant que le concept de téléréalité qui bouleverse une relation au quotidien et à l'écran. La téléréalité, comme le soap opera, filme le quotidien d'un groupe d'individus dans un espace unique, généralement un loft ou un open-space. Le scénario et les dialogues réduits - jouissifs ! - sont les maîtres-mots de productions qui garantissent toujours un très bon audimat. Dans A show about nothing, la sélection des acteurs pousse les spectateurs à s'interroger sur leur identité, leur rôle et leurs relations. De plus, par le dispositif mis en place, Sarah & Charles alimentent les histoires du lieu et de ses occupants servis sur un plateau.
A l'instar de Dan Graham dans ses dispositifs vidéos dont le spectateur fait partie intégrante, Sarah & Charles reconsidèrent les tenants et aboutissants de la scène. Ils désarticulent, démembrent, désossent la réalité et la fiction. Les fins mots de l'histoire sont le magique et le miraculeux mais ils tiennent à peu de choses : un cadeau dont on ne sait pas quoi faire. Les deux artistes, fascinés par le spectacle dans toutes ses dimensions (télévisé, scénique, cinématographique, etc.), amènent à réfléchir sur les codes qui les régissent tout en proposant de nouvelles formes poétiques dans un genre souvent en mal de poésie... Les déplacements de la réalité dans l'image filmée, les espaces miniaturisés, les rapports d'échelles, la question du point de vue construisent un univers composite.
EN
From Opera to Soap Opera: A Show About Nothing
Following Blond Eckbert, a contemporary opera for which Sarah & Charles designed the scenic apparatus, A Show About Nothing is of a new genre for both artists, inspired this time by soap operas and reality shows. Autonomie 9 – a private apartment in Brussels, open to the public for exhibitions and multidisciplinary artistic events – and Sarah & Charles, address the issue of double dimension. The private space and its inhabitants, merged with the exhibition space, are displayed for everyone to see.
The curators have been caught out at their own game: Louise, Nicolas and Richard are the ones in the spotlight, filmed by the camera. By reversing the relation between public and private, the artists catch the visitors' attention and focus it on the living room of an apartment which is no other than the Autonomie 9 space. A mutual voice for each performer creates a screen between them and their audience. The bodies, dehumanized by the clever device, mimic actions dictated by a simple script. The wait for the third character's arrival will probably be frustrating. If the scenic organization aims to mystify the wait, it is only to disappoint even more so since it is after all a 'show about nothing'. As for the empty dialogues broadcast by voice-over, they have no reason to be jealous of those of sitcoms as they go on to reveal a certain artificial side of the art world and its private views.
Cinema and TV shows have become a source of ideas for artists today as much as the concept of reality TV is turning the relation to everyday life and TV upside down. Reality TV, like soap operas, captures the everyday life of a group of individuals in a single place, most often a loft or an open-space. The script and the dialogues – wickedly exhilarating! – are kept to a minimum and are the keys to good audience ratings.
In A Show About Nothing, the choice of actors drives visitors to question their identity, their purpose and their relationships. Furthermore, through their device, Sarah & Charles feed the stories around the place and its inhabitants served on a platter.
In the manner of Dan Graham and his video installations in which the spectator is an integrant part, Sarah & Charles reconsider the ins and outs of the stage. They dislocate, dismember and dismantle reality and fiction. The real story is to be found in magic and miracles, but they lie in few things: a gift we cannot fathom. The artists, both fascinated with entertainment of all kinds (television, theatre, cinema, etc.), interrogate the codes that govern them, and offer, at the same time, new poetic forms in a genre that often lacks poetry. Reality shifts, miniaturized spaces, different scales and changing points of view create a composite universe.
Script for A Show About Nothing
SCENE ONE:

A room, the apartment of Richard & Nicolas; a sofa, a table and some books lying around. Nobody is home.
We hear keys fumbling in the lock; Nicolas enters.

Nicolas: "... Richard?"

Nicolas takes of his coat, turns around in the apartment a few times, shrugs his shoulders, takes a look at his watch and sits down with a book in his lap. The doorbell rings. Nicolas gets up to pick up the speakerphone.

N: "Hello...?"

Nicolas hits the buzzer, walks back to his seat and picks up the book he's been reading. Louise enters a few seconds later while taking of her coat.

Louise: Hi! And Richard?

Nicolas shrugs his shoulders while hardly looking up from his book.

L: "Ah ok… Ca va?
N:"Ca va…I'm hungry"

Nicolas lifts his upper lip while turning to Louise.
Louise nods with a smile, turns around in the room a few times, checks her watch and hits the sofa. Time passes; Nicolas continues reading while Louise comfortably lying on the sofa seems to have fallen asleep. Suddenly we hear keys fumbling in the lock again and Richard enters.

Richard: "He ho!"

Nicolas jumps up from the sofa. Louise awaking sits up.

N:"Let's go eat!"
L:"Hi!"
R:"No we can't, we have a meeting."
N:"About what?"
R:"The next show..."
N:"Oh…"

Nicolas sighs and shrugs his shoulders after which he slides back into his sofa and continues reading his book. Richard takes of his coat and kisses Louise hello.

SCENE TWO:

Louise and Richard sit next to each other in the sofa and slowly turn their heads in different directions, indicating they're having an elaborate conversation about the next show. Nicolas slowly turns the pages of his book, indicating the time passing. We maybe hear the sound of a ticking clock.

N: "Ah."

Nicolas closes his book and sits up. Richard and Louise look up in his direction.

N: "I think they've send in the work."

Nicolas slowly walks towards the table and picks up a brown cardboard box which is sealed at the top with some wrapping tape. He slowly walks towards the sofa and places the box in front of Louise and Richard. He then takes a seat next to them and while removing the wrapping tape, the three of them bow forward over the box, almost entirely obstructing the view on the box. The box opens, revealing a strong yellowish light. Simultaneously the light in the room grows dark. A strange sizzling sound fills the space. After a minute, they close the box and put it down in front of them. The lights in the room lights back up. The three of them sit back and look a bit devastated.

R:"Wow."
L:"Not bad!"
N:"Boaf"

Nicolas gets up and looks at Louise and Richard, he puts on his jacket.

N: "We go eat?"

Louise and Richard get up and put their jacket on while turning towards each other and silently, seemingly, commenting on what they've just witnessed. The three of them walk out the door.

THE END.

Sarah & Charles,
Brussels, November 2011.